MAD MEN STYLE INSPIRATION
Written by Holly Powell in Get the Look on the 16th May 2013 / Mad Men Style Inspiration
When the American TV series Man Men debuted in 2007 the fashion world went crazy for the glamorous 1960s advertising world. The series focused around the Sterling Cooper advertising agency in New York City, and its creative director, the incredibly dapper and suave Don Draper.
The 1960s was an era of changing practices and attitudes towards adultery and sexism; the ad industry of the time was a male dominated world, with women rarely appearing as more than receptionists and secretaries. The clothing of the time reflected such attitudes; the women were prim and proper with extremely feminine dresses and elegant hairstyles, whereas the men were impeccably dressed in tailored suits, and often found with a fine tumbler of whisky in hand.
Men's style in the 60s was heavily influenced by a few fashion icons of the time, bands like the Beatles and The Kinks who we may now wear on music inspired t-shirts once influenced fashion in a very different way; they brought 'Mod' fashion to the masses, which was generally composed of a classic tailored suit with a slim fit shirt and slim fit pants.
However Don Draper in Mad Men isn't as heavily influenced by that look in his style, as it was mostly adopted by the younger generation. Draper might have instead looked to 60s style icons such as Michael Caine, who dressed in sharp suits without a stitch out of place; the suit often included a waistcoat and tie, and it was usually all in black or navy for quite a serious and intimidating look.
However we know Michael Caine was a British style icon, and Don Draper was in the heady, busy, bustling world of New York City. American fashion icons of the 60s included the president John F Kennedy; he and his wife, the first lady Jaqualine Kennedy led a style revolution that contrasted harshly against the rebellious looks of the time being adopted by young people. The Kennedys were immaculate, favouring suits and designer gear, and they inspired a whole generation of smart dressers.
All that said, Don Draper was not afraid of colour – and if you're looking to emulate some Mad Men style you shouldn't be either. Check suit jackets can look very classy if worn as a fitted, perfectly tailored jacket with a slim fit shirt and pants combo. Bright jackets require a base of dark or neutral clothing, so keep the rest of your suit black or navy.
If you're shying away from the Technicolor side of the swinging 60s then you definitely have to try the 3 piece suit, it's said that a good suit to women is like what lingerie is to men; the perfect suit will make it so you leave ladies weak at the knees – ever wondered how Don Draper gets all the girls? Well now you know. Invest some money and get one perfect suit that's tailored just for you; it's better to spend a lot on one suit than a little on many suits.
When accessorising look for a Mod inspired skinny tie, and contrast with a bright pocket square. Finally, shoes are imperative to completing the look; do you imagine any of the Mad Men have dull, dirty shoes? Not a chance. Keep a good pair of designer shoes as perfect as the day they came out of the box. In the immortal words of Mr. Draper: "You want some respect? Go out and get it for yourself."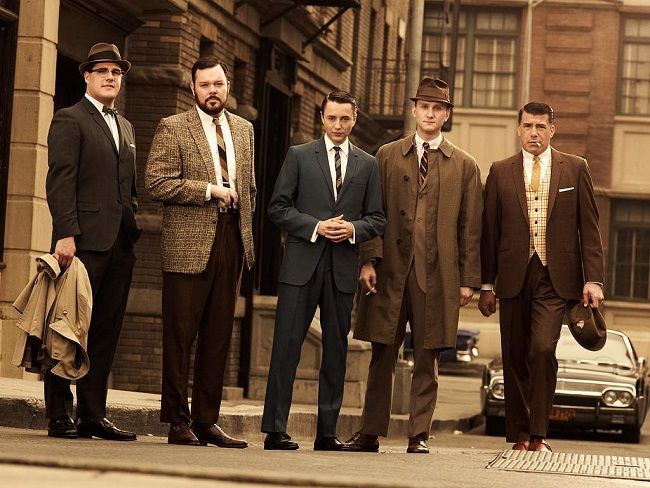 comments powered by

Disqus
Comments