TURBAN TRENDS
Written by Menswear Style in Trends on the 10th June 2013 / Turban Trends
Singh Street Style is a new fashion blog which focuses on the style of Sikh Turbaned men on the streets of London. Only having started up on March 2013, the blog has already achieved worldwide recognition within the global Sikh community, and has created a fashion movement within their community.
The founder of Singh Street Style, Pardeep Singh, talks about what inspired him to start the blog:
"Being a proud British citizen, I love the fashion that the British culture brings to the world, and I felt that starting this blog would not only make a statement within my Sikh community for my fellow Sikhs to take pride in wearing their Turbans, but it would also show the whole of Britain, and even the whole of the world, that we can be just as fashionable as anyone else. I wanted to bring two cultures together, but also celebrate the individuality of Sikh men, the differences in the way they tie their turbans, to the way they dress. The main aim of the blog is to bring everyone together from all different faiths and cultures to say that we are all the same."
The mix of bright colours, tattoos and tailoring works so well!
The team here at MWS have also recently seen the 'Turban' make a great appearance at Graduate Fashion Week with a wonderful and colourful collection by Jeetinder Sandhu who describes his fashion for us:
"My design aesthetic is based on using a lot of colours and prints and mixing it with my rich Indian heritage."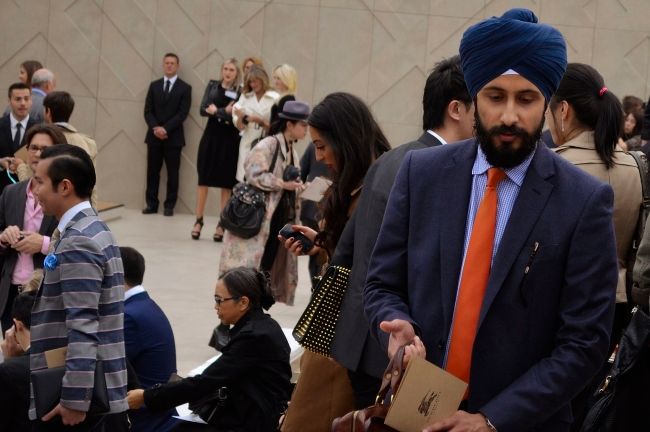 Kulraj Salh at Burberry 2013 LCM runway show
In the Sikh religion, the Turban is an article of faith, it has deep spiritual and practical history behind it. The turban is considered as a crown to the Sikhs, but it is also considered to be part of their "uniform". Singh Street Style brings the religious aspect and the Sikh identity in a respectful manner and merges it with fashion and British identity.
comments powered by

Disqus
Comments