FOOTWEAR FOR MEN ON THE MOVE
Written by Menswear Style in Tips & Advice on the 6th September 2013 / Footwear for Men on the Move
Men's footwear tends to get overlooked. Whether it's by men themselves or shoe companies, it seems that the variety and diversity in men's shoes are severely lacking compared to women's shoes.
Whilst men's shoes perhaps don't have the press that woman's shoes tend to garner, there is a beautiful selection of men's shoes that can be elegant, sophisticated and most importantly comfortable.
No matter where you work, shoes tend to cause a problem. Office workers have strict dress codes and typically 'smart shoes' are not as comfortable.
This doesn't just go for office workers, but also jobs where you have to be on your feet all day long. A comfortable or uncomfortable pair of shoes can either make or break your day.
If you're someone who needs a versatile shoe that doesn't need to give off the impression of professionalism, rather a cooler more chilled atmosphere... The flex tan boot from Fitflop is ergonomically designed for comfort, so you don't need to worry about discomfort if you're on your feet all day.
The tanned boot is stylish without being flashy and emits a vibe of urban cool and a devil-may-care attitude.
If your office is tailored towards a smarter look then you can't go wrong with a classic pair of brogue or oxford shoes from Debenhams. Unlike other standard office shoes, brogues give men an air of sophistication and gives the impression of someone who appreciates the classics of fashion without appearing to be old fashion.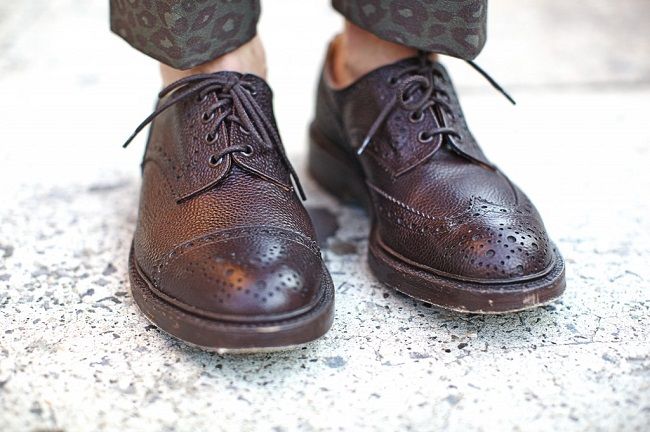 The Brogue trend is still going strong
Brogues have also been around for so long that the design has been perfected for all day use without negating on the style of the shoe. For more casual work or if you are on the move a lot, the perfect solution for not having uncomfortable shoes is just buying a pair of trainers right? Not quite!
Trainers tend to be more comfortable than other types of shoes. However, cheap trainers or trainers which simply look like trainers but can't handle the endurance that a trainer needs will hurt your feet.
With the recent trend of 'smart trainers' there are lots of trainers on the market which can match normal trainers in comfort and durability and also look smart.
Nike have many classic designs that have been incredibly popular in the last few years; they are made to surround your feet with comfort.
Also with classic black styling they can be used in other more professional situations. There are many different shoes and shoe companies whose main focus is to design a comfortable and wearable shoe.
This used to mean that you would have to sacrifice comfort for any sense of style, now there are many great shoes that can reflect your personality, keep you comfortable and won't resort you to wearing crocs.
comments powered by

Disqus
Comments